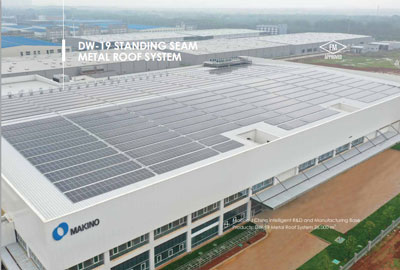 Technology of pre-injecting sealant into metal plate standing seam:
Sealant pre-infusing in the ribs,greatly enhance the air tightness and water tightness of metal roof panel.

DW-19 Roof Panel Technical Data
Effective width (mm) :468
Height of major rib (mm) :70
Use ratio of roof panel :0.78
Yield strength of raw material (MPa) : 350
Thickness of steel sheet (mm) : 0.5 、0.6
Unit weight per meter (kg/m) :2.355 、2.826
Moment of inertia (cm4/m) :32.63、 39.16
The sectional resistance moment(cm3/m) :6.04 、7.25
1、Waterproof and Wind Uplift Resistance Technology of New-type 360° Metal Standing SeamTecnología impermeable y de resistencia al viento de 360°.


80% of seam structure is completed via advanced   rolling of profiling equipment. Seam deformation at site is small, which improves seam quality and avoids damaging corrosion resistant coating.
• The roof system has no penetrated screw connected which can greatly improve waterproof performance and durability.
• With unique male and female ribs structure, it ensures excellent self-locking, and construction safety and convenience.
• Main rib pre injected butyl adhesive has excellent water tightness and air tightness under strong wind conditions, which can prevent the leakage of rainwater and molten snow after overflowing wave crest of roof panel.
• With 360° standing seam and complete design system, which greatly improves the wind uplift resistance performance of roof system.
• The special DW-19 metal roof panel profi ling equipment researched and developed by Duowei can profile color-coated steel sheets, stainless steel plate. Besides, Duowei also specially developed 360° seaming machine to ensure the profi ling precision of roof panel.
Special wind uplift resistance fi xtures are provided for seam of plate ribs in high wind pressure region, which greatly improves windresistant performance.

American FM Authentication Certificate
2、DW-19 Metal Roof System has Passed the Strict Wind Uplift Resistance Test by American FM Institution.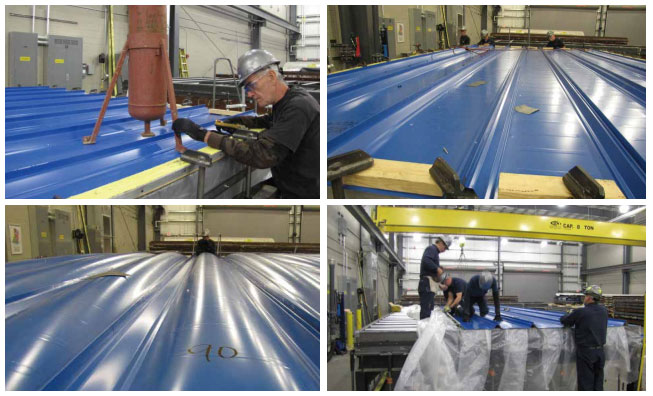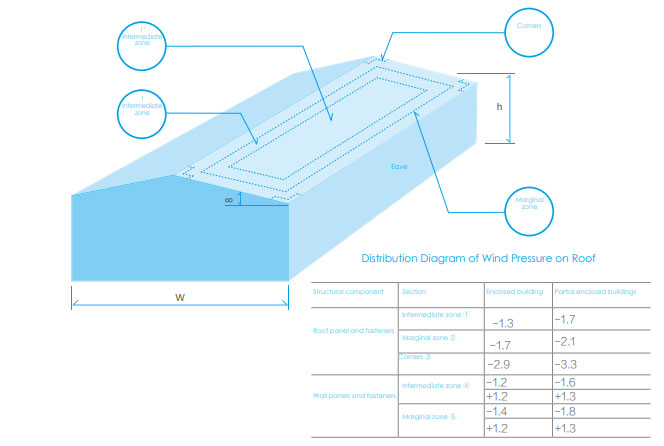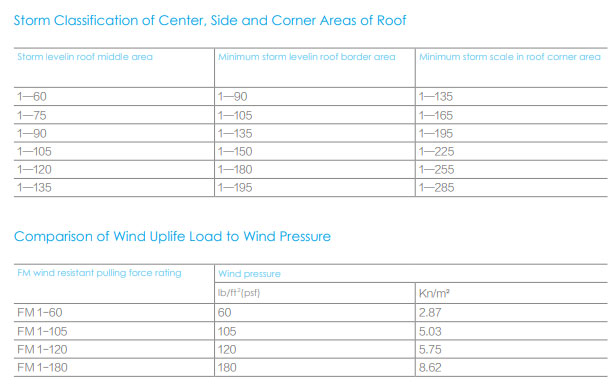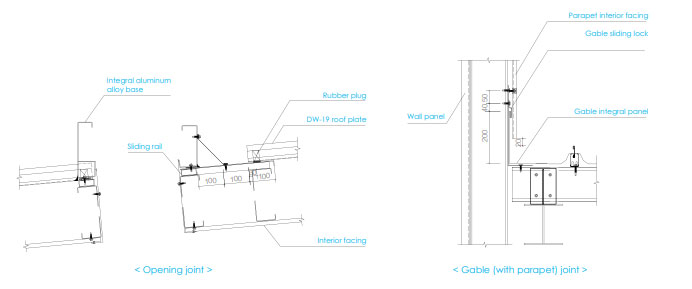 3、Standard Joints of Roof System Juntas estándar del sistema de cubierta