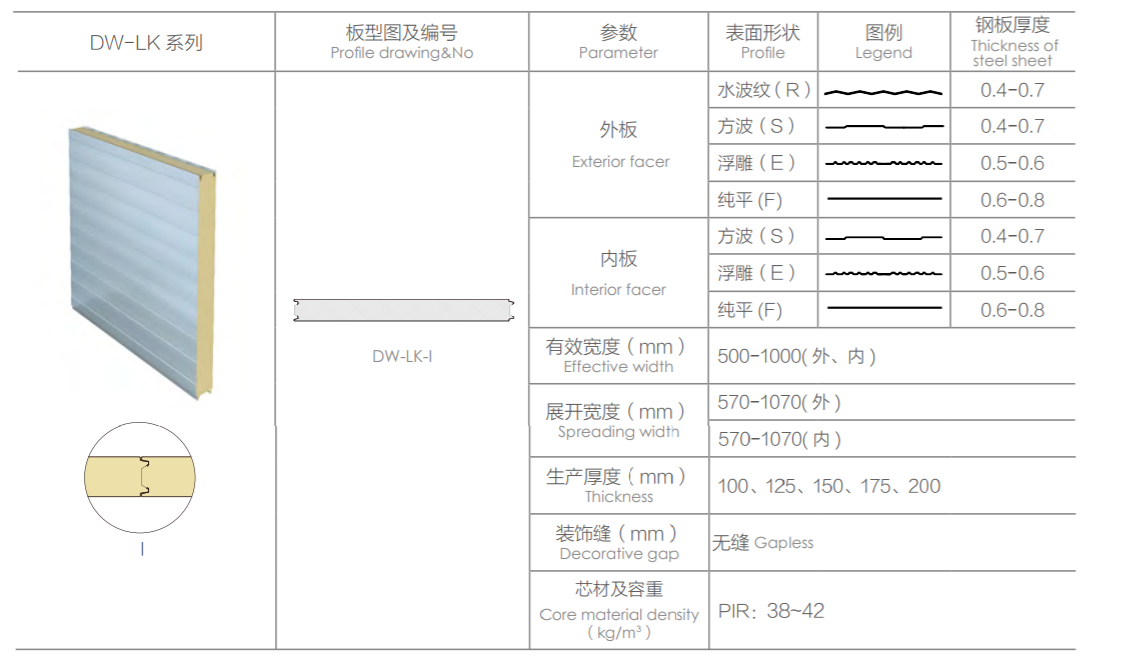 Product advantages:
● The rabbet joint structure improves the insulation and air tightness of the panels and is specially designed for cold storages.
● The panels are uniform and stable and extremely excellent in both heat insulation and waterproofing.
● The panels have light weights and beautiful appearances, solving the temperature difference problem of the cold storage industry effectively.
● Within certain modulus, the cold storages may change freely in length, width and height directions to get bigger or smaller according to actual needs. The knockdown boards may be remounted at another place conveniently and quickly.
The technical specifications of cold storage sandwich panel

Thickness range

Temperature difference between inside and outside

Height of wall panel

Length of roof panel

Applicable cold storage temperature

mm
℃
m*
m**
℃
100
30
5
4.45
-15
125
35
5.5
5.2
-20
150
50
6
5.85
-25
175
65
6.5
6.3
-30
200
75
7
6.8
-40
● The data shown in the left table are only available for the panel which subject to the internal-external pressure difference and contraction pressure, without wind load. If the specified length/height is exceeded or wind load occurs, panel supporters are required.
● The above data are calculated according to the heat flow of 8~10W/m2
Application fields:
● Fast frozen processing and refrigeration of food
● Food processing plant
● Storage of dairy products
● Biological products and medicines
● Indoor cold storge
● Cold storages for cold-chain transportation vehicle
VCLEANTM CLEAN SANDWICH PANEL SYSTEM VCLEANTM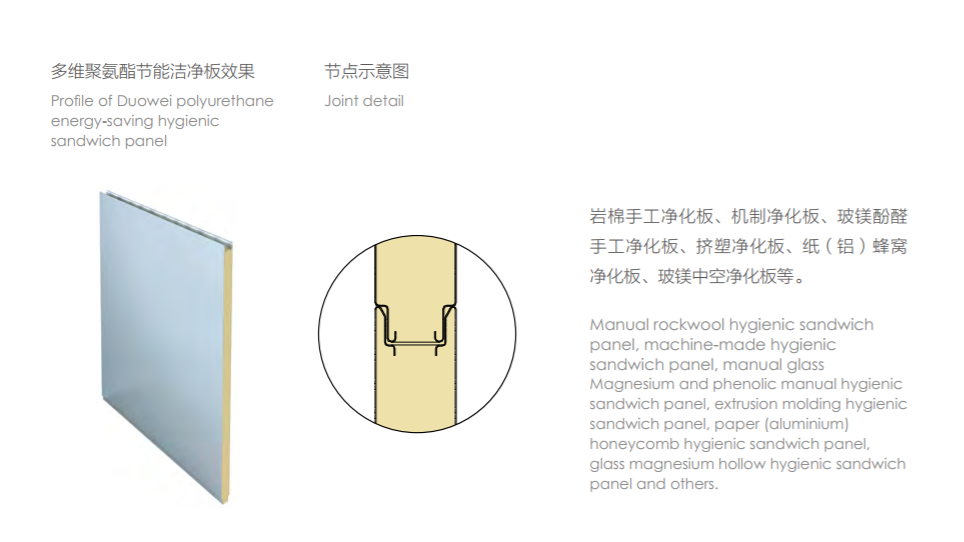 Recommended type 11
VCLEANTM clean sandwich panel system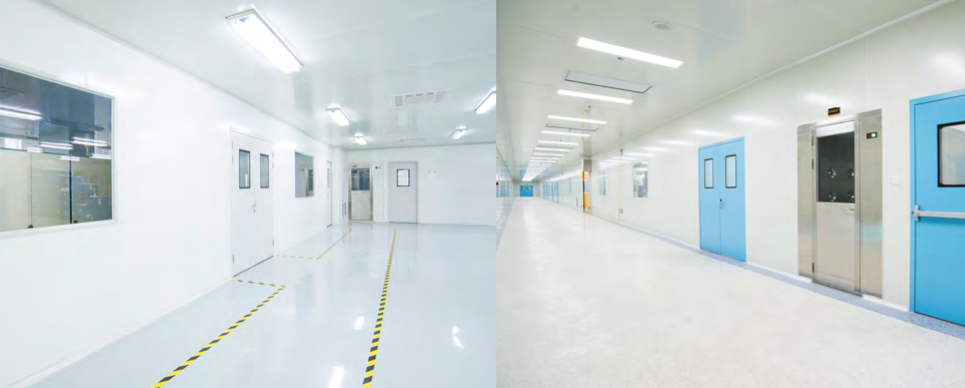 Product advantages:
●Environment friendly: As a kind of environment friendly building material, it contains no radioactive substances, formaldehyde, heavy metals and some other harmful substances and generates no harmful gases or smog upon high temperature or open flames;
● Clean: As a kind of anti-static material, it will reduce dust accumulation on surface;
● Damp proof: It is difficult to be deformed and no decrease of strength after getting wet;
● Heat preserving: It is a kind of heat preserving and energy saving material and has excellent heat insulation effect;
● Corrosion resistant: It is acid and alkali resistant on its surface and has great stain resistance;
● Color: With many colors for your choice, it is soft and elegant and shows good decorative effect.
Application fields:
● Electronic industry;
● Pharmaceuticals industry;
● Medical operation rooms;
● Food industry
It mainly provides complete set of static and fire proofing hygienic systems for hygienic rooms, operation rooms and hygienic workshops, including walls, ceilings, anti-static workbenches and so on.
It fully meets anti-static, hygienic and fireproofing requirements and has beautiful appearance, dampproofing, acoustical property, durability and some other physical and chemical performances, thus providing a perfect safety protection system.
VCLEANTM CLEAN SANDWICH PANEL SYSTEM
Rockwool Sandwich Panel


Paper Honeycombs Sandwich Panel 1


Aluminium Honeycombs Sandwich Panel


Polyurethane(PU) Sandwich Panel


Rock Wool Glass Magnesium Sandwich Panel


Paper Honeycombs Sandwich Panel 2


Product Standard:
Length: Can be customized according to customer requirements ( Generally less than or equal to 6000mm)
Width: Standard: 985mm, 1185mm (Can be customized according to customer requirements) Thickness: 50mm